RetroKat FAQ
General
Where can I see a list of games?
---
www.retrokat.ca/game-list

You can view our handheld or home game console list.
---
Are all those games really included?
---
Yes they are! These are loaded via a MicroSD card or internal memory as a gift with every purchase. We load entire game libraries from A-Z for most console based on capacity available!
---
When will ______ model be available again?
---
We get this question a lot!
You can use our "out of stock" function on the product description page or on the main page to be notified immediately when a item returns to our inventory.
---
What forms of payment do you take?
---
We currently accept all major credit cards within Canada and the United States.

For Cash / E-transfer options , these are strictly for Canada ONLY.
---
What currency is your prices in?
---
All prices are in CAD
---
How can I pre-order a console?
---
In the event of a console being out of stock you're able to make a request to be notified when they are in stock! This service is completely free and requires no deposit.

Please use the form on our website and register your email. We'll reach out to you as soon as some are available.
---
Do you charge taxes?
---
Nope!

We take care of that so you can always have the best pricing possible. Your total checkout has no tax.
---
---
Technical Support
Where are my games on the X-Series handheld? It's empty!
---
Chances are you missed reading the instruction sheet with your order. All X Series handheld consoles include a handy set of instructions guiding you to the massive folder of free games loaded! Please see paperwork included with your package or see below: In order to play games from the full library you must access the games in a specific way 1. Locate the "Files" icon in the main menu and click to enter. 2. You'll see several folders, navigate to "RetroKat Games" (Full game list here) 3. Once in this folder you should see several console labelled folders 4. Select a folder of your choice and within that folder is the games list indicated for selected console 5. Initiate the game as normal. You can also access additional games on the "Games" icon on the main menu. This will allow to play arcade games such as FBA, CPS and Neo Geo - it is normal for the other "Games" lists to be empty as it has all been merged into the RetroKat Folder!

---
My console has a power light and wont turn on / image is frozen. What do I do?
---
Don't sweat it! For X / R / Q Series:

Locate a small reset hole on the bottom or side of the unit. Insert a small pin. This will reset your console and correct the issue immediately.

The cause :

Some game titles are not properly shutdown or closed when selecting another game. This can cause the system to hang. It is important to always exit games using the exit button!
---
My console has a problem or isn't working. Can you help?
---
We're available around the clock with any support related questions. We'll be glad to assist you with any troubleshooting every step of the way. Please reach out to support@retrokat.ca as our chat/message representatives are not equipped for technical questions.

For peace of mind : All RetroKat consoles come with a 12 month manufacturer warranty free of charge. This means any manufacturer defect is completely covered. We'll either replace or repair your unit at no additional cost. For full terms and conditions please see at several locations : product page , upon checkout or warranty pamphlet included with your order.
---
How do I run PS1 titles?
---
For L Series :

Please navigate to the PS1 console icon, select the game folder of choice. Remember to select the back arrow to go back to the full selection of game folders. Select only the file ending with .img .bin or .iso

Example : yourgame.img / yourgame.bin / yourgame.iso For X Series :

Please navigate to the PS1 game folder located in the "RetroKat Games" main folder. Select the folder of the game you would like to play and select only the first "img" file. You may see other files ending with .bin or .cue these can be ignored.

For all other consoles, they do not require specific instructions to load.
---
My controllers aren't working!
---
X series only:
If you purchased the ultimate package or used a third party controller you'll still need to program these to function.

Once in game, press the "back" esc button located on the top of the unit. This will bring up the "Retroarch Menu" Navigate to "Input"
Navigate to "Input User 1 binds" (or 2 for second controller)
Make sure "User 1 Device Index" is set to the name of your controller EG: USB Gamepad
Each individual key EG: User 1 Y button (left) can be selected and you would press the button according to what is labeled. You would complete this step for all the buttons

Once complete your controller is mapped correctly and will function as normal. Console Series X Pro -

Power off your console, remove all peripherals and controllers. Boot up the console without anything connected. Once it's rebooted it will state that it has no controllers. Connect your controller and hold any key to assign this controller to EmuElec. At this point feel free to reprogram your controller at ease. PS style controllers included with the console do not need to be reprogrammed and come so like this out of the box.

N64 Button Layout: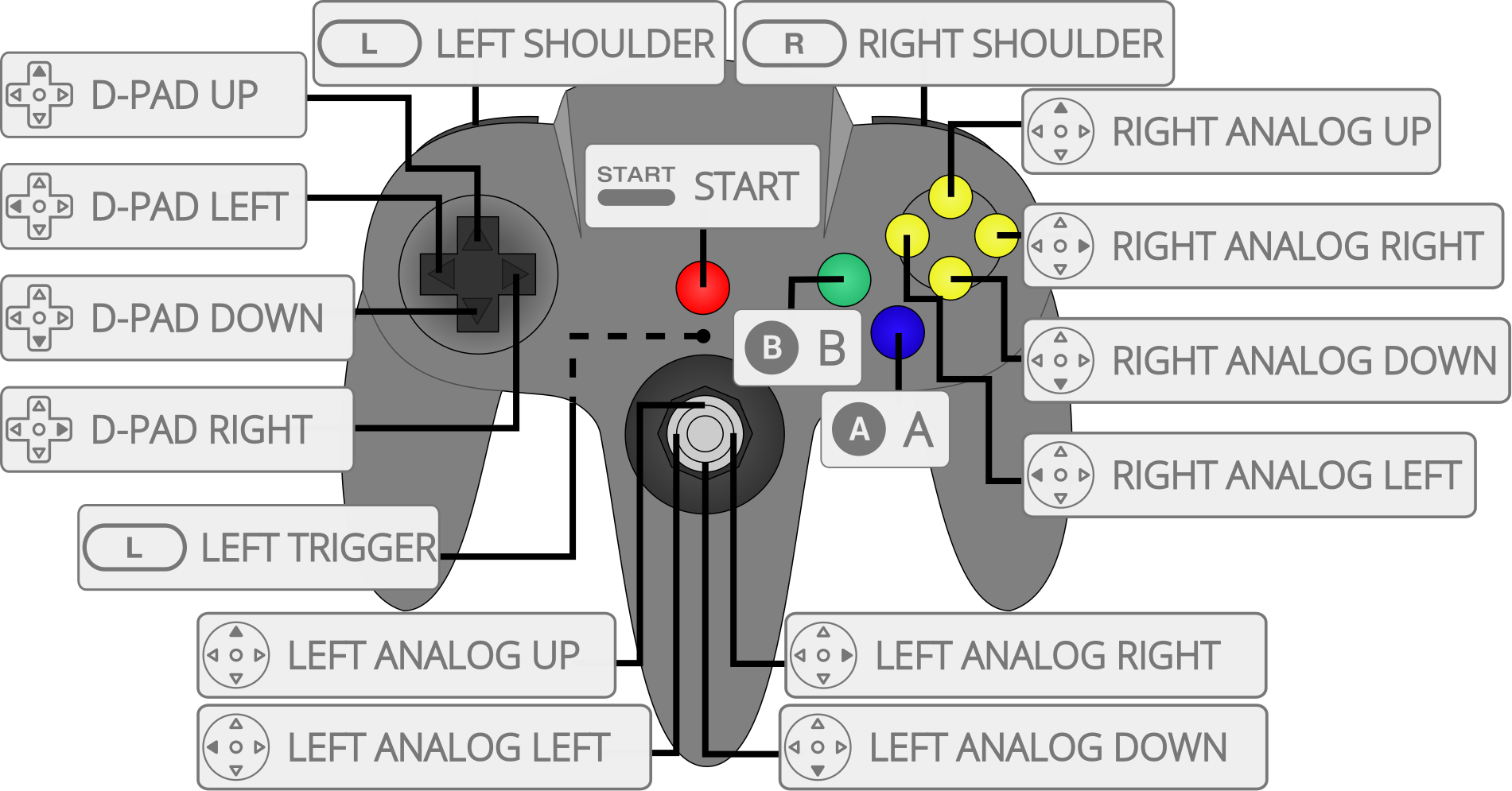 ---
---
Shipping
Where do you ship from?
---
We are located in Canada, Ontario. Just outside of Niagara Falls.
---
What type of shipping carrier do you use?
---
All of our packages are shipped via Canada Post - Expedited.
---
How long does shipping take?
---
All shipments speeds can vary depending on your location.

Ontario: 1-4 business days Rest of Canada : 2-6 business days.
United States : 3-8 business days. Please note : due to unforseen circumstances especially during COVID-19 these shipping times may vary and can change without notice. Please contact Canada Post directly for shipping inquiries.
---
I'm a little worried about purchasing online, Can I pick it up?
---
[RESIDENTS OF CANADA, ONTARIO ONLY] Absolutely!

We understand that for some that ordering online can be a bit overwhelming but that doesn't mean you're excluded from the fantastic nostalgia we have to offer!

If eligible you'll be able to select the pickup option instead of shipping. Once the order is placed you'll get a confirmation email indicating when your order is ready for pickup! This will include all the necessary details such as address and contact information needed to pickup your order. [During lockdowns due to Covid-19 all pickups will be temporarily suspended]


---
How much is shipping?
---
All shipments are sent via Canada Post - Expedited regardless of location.

Ontario : Free Shipping
Rest of Canada: $4.99 CAD United States : $10.99 CAD
---
---
Local Pickup [Canada Only]
Where is your pickup location?
---
[For residents of Canada Ontario Only] Our pickup depot is located in Grimsby, Ontario. Just shy a few minutes from Niagara Falls.
---
Do I need to wear a facemask for pickups?
---
Absolutely!

We take our safety as well as yours very seriously. Anyone who is picking up an order must be wearing a mask for the quick transaction.

Service can be refused if a mask is not worn.
---
Can you show me a demo when I pickup?
---
No,
Due to Covid-19 safety:
Our pickup location is strictly structured for inventory to be stored and distributed to customers who live locally. As such our employees at this location do not provide demo's of our units or answer any RetroKat related questions.

It is meant only to pickup your order and complete the payment of your transaction.

We encourage all customers using the pickup option to reach out to us via Facebook Marketplace or our chat system here with any questions prior to picking up your order.


---
What are your pickup hours?
---
Monday - Sunday

10AM - 8PM EST

If your pickup order is recieved after 8PM, it will be prepared the following business day.
Also, if your pickup order is recieved a few minutes prior to our cut off, it will be moved to the next business day.

---
When is my order ready for pickup?
---
Confirmation emails are sent when orders are ready for pickup. Please do not arrive without this confirmation email otherwise your order will not be ready.
---
I want to pay cash or e-transfer upon pickup.
---
For cash transactions you can pay at the door upon pickup. (when not in active lockdown)

All e-transfer transactions must be made prior to pickup and cannot be made at the door upon pickup. Once a e-transfer is recieved you'll recieve a confirmation email stating that your order is marked as paid and you can proceed to the pickup location.
---
---